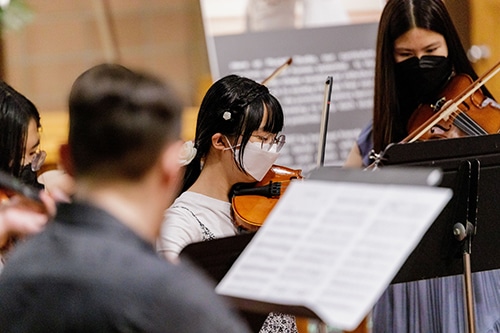 So, what does Pluckd Studio have to offer? That's easy! A welcoming environment with loving, supportive instructors. All to help your child master their instrument of choice. We believe that music can help players find inspiration, passion, and purpose. To play our part in that, we provide private and group classes from the industry's top talent—with proven results.
Approaching high school, or getting ready to graduate? Join our brand-new entrepreneurship program, Give a Pluck! You'll receive $250 in start-up funding, plus one-on-one coaching, to start raising money for a charity you love.
So, what happens to the money raised? Well, 90% goes to your charity, the other 10% goes back to another student starting their fundraising journey. This helps us creating a "cycle of giving" so every student has the chance to learn the power of giving back to our community.
While anyone is able to join, this program is especially tailored to high schoolers. Not only will it help you reach Long Island's required 40 hours of community service for graduation, but non-profit work looks AMAZING on college applications. On top of outstanding achievements in musical performance, you'll have the chance to add philanthropy to the list your accomplishments!
Now accepting new students!
Lessons at Pluckd Studio are experiences created, developed, and taught with empathy by the industry's top talent, bringing results through innovation and inspiration. Schedule your first lesson today!
Get One Free Trial Lesson
& Receive a 10% discount on your instrument rental
Syosset Location:
118 Jackson Avenue
Syosset, NY 11791
Business Hours:
Mondays–Fridays: 2:00pm-10:00pm
Saturdays: 10:00am-4:00pm
Sundays: CLOSED
Manhasset Location:
1901 Northern Blvd.
Manhasset, NY 11030